Last week was a little heavy on the cheese and carbs, so I've been craving vegetables. This salad hit the spot, and was a great way to use up some random ingredients that I had around the kitchen.
I actually made the chicken the night before I ate the salad. I had this planned for dinner on Monday night, but I had a sore throat and didn't want to eat, but the chicken needed to be cooked. The chicken doesn't take long to make at all, but preparing it ahead of time made the salads super easy to prepare.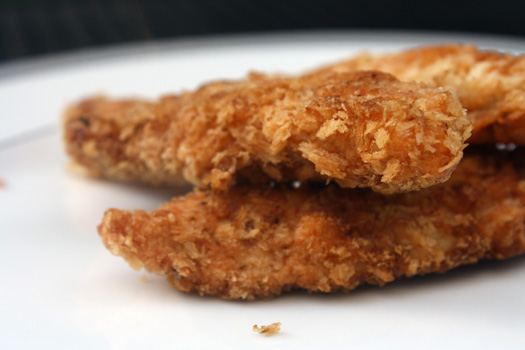 In order to make the chicken tenders extra crispy but cut down on the fat, I started with boneless, skinless chicken breasts. I coated them in panko breadcrumbs and browned them quickly in some oil before finishing them in the oven. The breading came out really well this way – nice and crispy, but not greasy. They chicken also satyed nice and moist.
Buffalo Chicken Salad
2 small boneless, skinless chicken breasts
2 Tbs whole wheat flour
1 egg, beaten
1/2 cup panko breadcrumbs
1/2 tsp Essence
1/4 cup vegetable oil
1 tsp butter, melted
1/3 cup Franks red hot
1 head red-leaf lettuce, chopped
1 handful parsley
1 rib celery, diced
1/2 large tomato, diced
1 slice red onion, diced
1 avocado, slightly mashed
2 oz good-quality blue cheese (I used Rosenburg Danish Blue)
Preheat oven to 400. Cut each chicken breast into 4 pieces. Stir Essence into the panko breadcrumbs. Lightly coat with flour, then dip into egg and dredge in breadcrumbs. Heat oil in small skillet until very hot. Cook chicken in batches until browned and crispy – about 1-2 minute on each side. Arrange on a baking sheet and bake until cooked through – about 10 minutes.
Combine butter and hot sauce in large bowl. Wokring with one piece at a time, add chicken to the bowl and gently toss to coat with sauce. Remove to a plate.
Combine lettuce and parsley. Top with chicken, onions, celery, tomato, avocado, and blue cheese.
Serves 4.
****
I apologize that my posting has been a little sporadic lately. In addition to being sick, last week we got a new dog! He's a bit of a handful, but we love him anyway. Meet Leonard: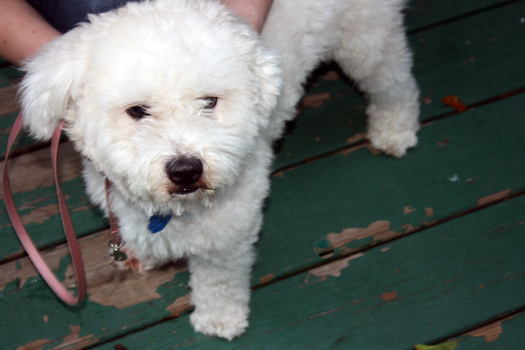 ****
I'm submitting this to Souper Sunday over at Kahaki Kitchen

By