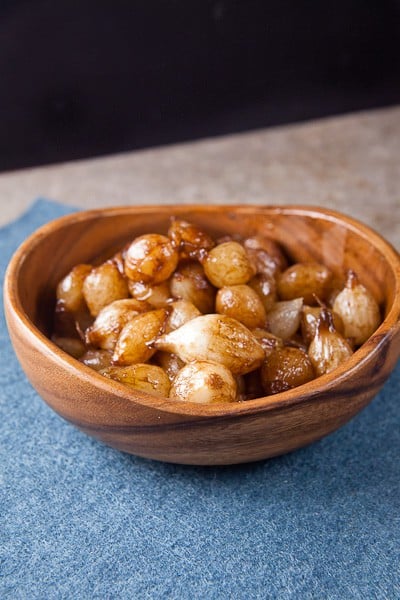 These tiny onions cooked in fresh orange juice and balsamic vinegar are my new secret weapon. They're delicious as a side dish, on top of steak or chicken, on salad, or as a component of a more complex dish. They're cheap, easy, and fast. Plus, you should have seen Shawn's face light up when he heard that he'd get to eat little onions again. Seriously ladies, pearl onions are apparently the key to a man's heart. Who knew?
I originally planned to use these on top of spinach salad with steak and roasted parmesan gnocchi "croutons" but that fell through when I opened my container of spinach and saw that it was past it's prime. It's completely maddening how quickly baby spinach spoils; this was only 1 day past the sell by date! Anyway, I ended up wilting the pinch, boiling more gnocchi and tossing everything together with sautéed mushrooms, olive oil, balsamic vinegar, and whole peppercorns. I was frustrated (I'd been craving salad all day), so I didn't take a photo of the final plate but I really with that I had – it was incredible! Definitely something that I'll make again. I had about a cup of braised onions left so I threw them in the fridge and have been using them left and right all week – they keep great and really are a handy ingredient to have around!
The recipe for these come from Fran of Fran's Fav's – I was paired up with her for this month's Secret Recipe Club. Fran takes food very seriously, testing and retesting different versions of recipes in pursuit of finding the perfect one. She has over 300 cookbooks (and here I thought my collection was bad!) and generally seems like a super fun lady. Hop on over to her blog and say hi – then make these onions!
Braised Onions with Orange and Balsamic Vinegar
Yields 2 cups
Prep Time: 15 minutes; Total Time: 15 minutes
Adapted from Fran's Fav's
Ingredients
2 cups frozen Pearl Onions
1 teaspoon Butter
1 teaspoon Olive Oil
1 Orange, juiced
2 tablespoons Balsamic Vinegar
1 teaspoon Water
Preparation
In large skillet set over medium heat, melt butter and oil.
Add onions; sauté until brown and tender, about 10 minutes. Add orange juice, vinegar and water to skillet. Reduce heat to medium-low. Simmer until liquid is reduced to glaze, about 5 minutes.




By