Sometimes I find myself in an eating rut. For someone who loves to cook, I eat out or order in far too often. Even I'm surprised at how often I end up skipping the kitchen in favor of letting someone else prepare my meal for me. What can I say? I'm lazy. And by the time I get home from work I'm exhausted. While the idea of actually cooking doesn't usually bother me, the thought of cleaning up afterwards is more than I can take.
So we get pizza.
Boring. And, to be honest, not all that tasty.
There's no excuse. I have an entire category on here devoted to Quick Weeknight Meals. There are hundreds of great restaurants within in fifteen minute drive from my house. And, if I really wanted, I could make my own pizza in the amount of time it takes to get one delivered. That would taste better. And that wouldn't require a ton of time spent on cleanup.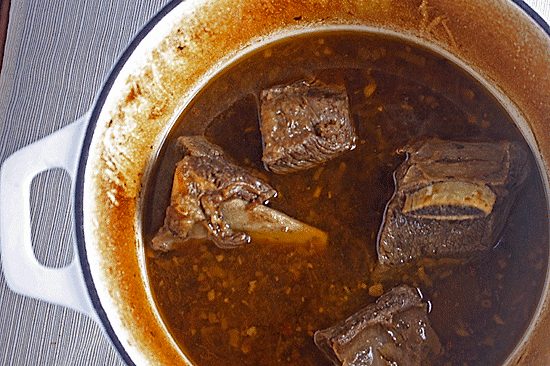 So. I recently made a resolution that if I was going to be lazy and not cook for myself, I at least deserved to eat something good. Not pizza. Not fast food. Not a salad with twelve million calories from a chain restaurant.
Which lead me to discover a great Vietnamese restaurant that I had never been to before, despite the fact that it's practically walking distance from my house. (It probably is walking distance, but there we go with that whole lazy thing again.)
And that restaurant has lead me to discover that Vietnamese food consists of more than just pho. Like their mussel appetizer, where mussels are served on the half shell drizzled with a sweet and spicy coconut curry. Or Bun Thit Nuong, grilled pork served over vermicelli, which has quickly become my favorite thing to order.
When I received a gorgeous enamel coated, cast iron dutch oven the other day (keep reading to find out how you can get one too!), I immediately decided that I wanted to make something loosely inspired by that dish. It was too hot outside to eat soup or stew, so a richly flavored braised beef served over a cool noodle salad seemed like it would hit the spot. Which it did. Despite the seemingly simple ingredients, this dish was bursting with flavor. As it bubbled and sputtered away in the oven, the most incredible aroma filled the house – mysteriously, it reminded me of cinnamon!