Thanksgiving dinner has been eaten, Christmas music is in the CD player, and it's COLD out!!! It seems like Mother Nature got the memo, and all of a sudden it feels like winter.
Since my mom always hosts Thanksgiving, I'm not stuck trying to get rid of leftovers all week. No turkey sandwiches here! I'm focused on more important things. Like soup. This time of year, there is very little that appeals to me more than a nice, warm bowl of soup. This bean soup is a great way to get back on track after the Thanksgiving weekend – it's vegetarian (vegan if you skip the sour cream on top), full of wholesome vegetables and fiber, and extremely soul-satisfying. Adding your own toppings also makes the soup fun, and allows you to switch it up a little bit so that the leftovers don't all taste exactly the same.
Most bean soup recipes that I've seen just call for a simple mirepoix – carrot, onion, and celery – to be added along with the beans. I wanted this soup to have more flavor, so I added a green pepper and some shallot. I also had a sweet potato hanging around with no plans, so I threw that in there too. I love the addition of the sweet potato! It added another texture to the soup, and the slight sweetness went really well with the warming spices. I think this will be a standard addition to my bean soup from now on.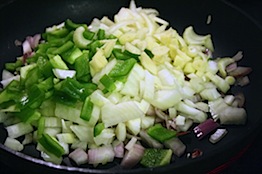 I make my soup with dried beans, which does rule this out for weeknight preparation. However, it reheats really well so I generally make a big pot of it on Sunday and save it for dinner on Monday or Tuesday. If you want to speed up the preparation, you can substitute two large cans of black beans (rinsed and drained) for the dry beans. I just prefer the dry if I have time because they're cheaper (under $1 for a 1-pound bag!), have less sodium, and don't taste like can.
I also really like to bring soup with me to work in the winter – it makes a great, filling lunch that's low in calories. In order to prevent it from spilling during my commute, I pack up a single serving the night before and throw it in the freezer. You can mix in some sour cream before you freeze it, but pack the rest of your toppings separately. When you're ready to eat, just pop it in the microwave for about 2 minutes and you'll be all set!
I also have to talk about this
measuring spoon
for a second. I got it in one of my Foodbuzz gift bags and it's AWESOME! It's basically 4 measuring spoons in one – there's a cup on each end, and each cup can turn inside out so that it give you two different measurements! So it's an entire set of measuring spoons in one little tool that take up next to no space. It's also really easy to clean (since you can turn it inside out) and it's only $5! They'd make a great stocking stuffer for someone who loves to cook, or for anyone with a small kitchen.
Black Bean Soup
2 bay leaves

1 pound dry black beans, picked over

12 cups water

1 Tbs olive oil

1 green pepper, chopped

1 small yellow onion, chopped

1 shallot, chopped

1 large sweet potato, peeled and diced

2 carrots, peeled and chopped

2 stalks celery, chopped

1 jalapeno, minced

4 cloves garlic, minced

1 Tbs cumin

1 tsp chili powder

2 Tbs oregano

Salt to taste

Optional toppings: shaved red onion, avocado, lime wedges, sour cream, pepitas
Add bay leaves, beans, and water to a large stock pot. Cover and bring to a boil. Reduce heat, and let simmer for about an hour.
Heat the oil in a large skillet. Add the pepper, onion, shallot, carrot, celery, jalapeno, and garlic. Sauté until the vegetables have softened – about 10 minutes. Add the cumin, chili powder, and oregano. Stir to combine, an sauté for another 5 minutes. Add the vegetable mixture and the sweet potato to the pot of beans and simmer for another hour, or until the beans are tender. Season to taste with salt.
Allow each person to add the toppings that they want to their individual bowl.
Serves 12
Approx. 145 calories, 1.7 grams fat, 8.5 grams fiber, 8 grams protein (without optional toppings)