All of a sudden, the days are getting shorter and I've been needing a jacket when I leave the house in the morning. I'm not ready for fall yet! Except for the food – I'm always ready for fall food. Summer is great with its abundance of fresh produce, but there's only so much that I feel like making or eating when its hot out. Now that the weather has cooled off a little, I'm ready for comfort foods again.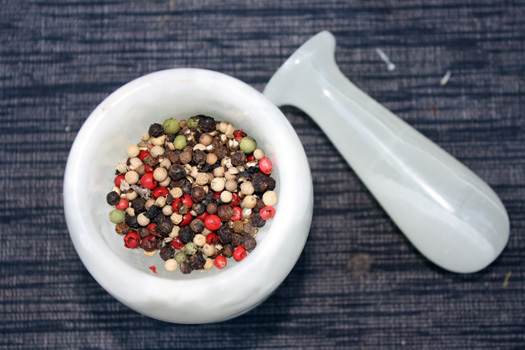 Steak au poivre is a dish that everyone should have in their repertoire – it's REALLY easy to make, uses ingredients that you most likely have on hand, and pairs well with a variety of side dishes. Despite its simplicity (once you make it once or twice, you won't need a recipe anymore) it will allow you to perfect two important cooking skills: how to sear meat and how to make a pan sauce.
The co-op still has some beautiful asparagus that I wanted to take advantage of, so I served this steak with those and some red skin potatoes (skins left on) mashed with a little milk, butter, and truffle oil. The creaminess of the potatoes was a nice contrast to the pepper on the steak and they also went really nicely with the pan sauce. The blanched asparagus were a nice way to add more texture to the meal and prevent it from being too one-note. Another common way to serve the meal though is with french fries, which I also do pretty often since they're also really good with the sauce.
Steak au Poivre
2 Tbs whole peppercorns (mixed colors are nice)
1 thick steak, cut in half and trimmed (traditionally a filet mignon, but here I used sirloin)
salt
1 tsp olive oil
1 tsp butter
1 shallot, mined
2 Tbs brandy (can substitute cognac or red wine)
1/2 cup beef stock
1 Ts butter, at room temperature
Roughly crack the peppercorns with a mortar and pestle or under a rolling pin. Season the steaks to taste with salt, then press the cracked peppercorns into both sides, forming a crust.Cover with a paper towel and press slightly – this will help secure the peppercorns as well as dry the steak, which will help you get a better sear. Heat the oil and butter in a frying pan over medium-high. Add the steaks and cook for about 3 minutes on each side for rare, or longer to your desired level of doneness.
remove steaks from the pan and allow to rest. Add shallots and cook until softened. Deglaze the pan with the brandy, stirring up any bits that may be cooked onto the pan. Add stock and bring to a boil. Cook about 3 minutes to allow it to thicken. Whisk in the butter until it is fully incorporated. Remove from heat and season to taste with salt and peppper.
Serve sauce spooned over steaks.
Serves 2.