Biscoff peach cobbler puts a modern spin on a summer classic.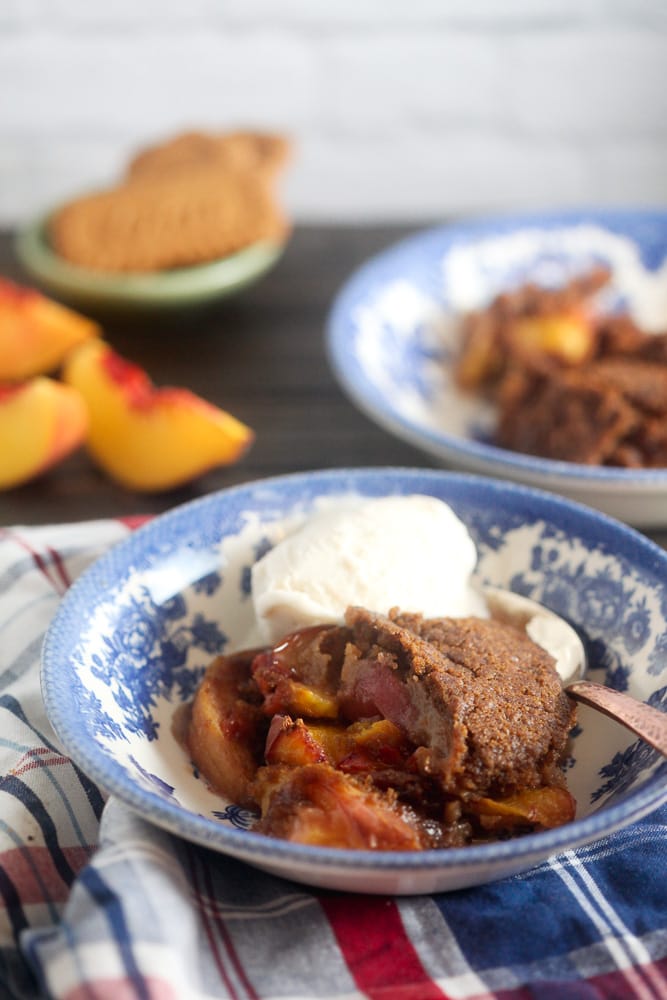 It's August and according to my facebook feed that means it's back to school for a lot of people. How do you feel about that? Happy? Relieved? Rushed?
I couldn't believe it when I saw that kids are going back already! Here in the Northeast, school doesn't start until after Labor Day. To me, August means that summer is finally ramping up. It also means peaches are in season!
I've been thinking about topping peach cobbler with biscoff biscuits for weeks. Now that peaches are everywhere, I was finally able to give it a try – and I'm excited to report that it lived up to my expectations. (If you want another biscoff recipe, try my biscoff swirled blueberry frozen yogurt!)

This biscoff peach cobbler starts of pretty traditionally, with fresh or frozen peaches, brown sugar, vanilla, and a little flour to thicken the juices. But then things start to get fun. I crushed half a package of biscoff cookies in my blender, then used the crumbs in place of flour and sugar in the topping.
The result is a mess of sweet, stewed peaches crowned with a rich, cinnamon-y topping. My initial vision of a biscuit topping feel flat (literally) but the biscoff cookies make a delicious batter that gives this cobbler loads of flavor.
Enjoy it warm from the oven plain or topped with vanilla ice cream – I'm obsessed with Trader Joe's soy vanilla, which is super creamy. Leftovers are awesome stirred into plain Greek yogurt for breakfast.