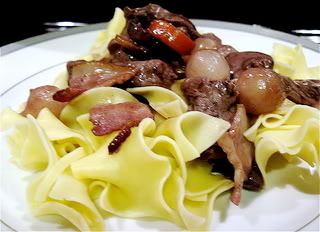 I'm excited that spring is starting to arrive, but I'm sure we'll get a few more frigid days before it settles in for good. With portobello mushrooms, parsnips, and egg noodles, this recipe is perfect for those last few chilly nights.
This recipe reheats very nicely- I actually thought it was better the second day. Next time, I'll use more vegetables. The soak up the sauce and taste delicious.I served this with egg noodles (I like the wide "dumpling" shape) for something different. Potatoes would be good too.
1/4 lb thick-sliced bacon
1 lb strip steak, cut into chunks
8 oz baby portobello mushrooms, chopped
2 carrots, peeled and chopped
2 parsnips, peeled and chopped
1 clove garlic, minced
salt, pepper, thyme
2 cups dry red wine
6 oz frozen pearl onions
1 T. tomato paste
1/2 tsp mustard
2 T flour
1.5 c beef broth (fat free, reduced sodium)
1. In a large pot, cook bacon until crispy. Add beef and sear on all sides. Remove from pan and set aside.
2. Ad next 6 ingredients (through spices) to pot. Cook, stirring occasionally until mushrooms start to release some liquid- about 10 minutes. Add wine and onions to pot and bring to a simmer. Cook another 5 minutes until vegetables are soft.
3. In a small bowl, whisk together tomato paste, mustard, flour, and broth. Stir this mixture into your pot until it comes to a simmer and begins to thicken.
4. Return beef and bacon to pan and cook until heated through- 2 or 3 minutes.
Serves 8.
[digg=http://digg.com/food_drink/Beef_Bourguignon]