Baked Gnocchi with Spinach and Mushrooms is warm, satisfying, and easy enough for a weeknight. It's so creamy you'd never guess it's also dairy free!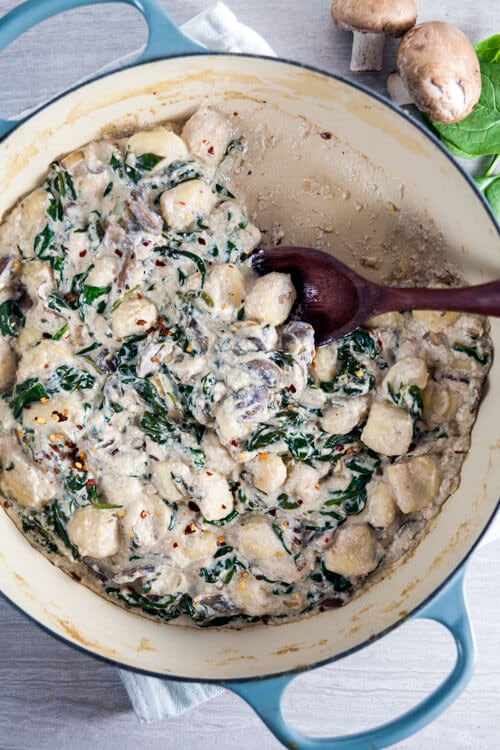 Sometimes when we go out to eat I'm tempted to skip the entree section of the menu and create a meal based solely on side dishes. The sides section always seems to be where the most delicious things are hidden: Creamed spinach. Sauteed mushrooms. Cornbread. Plantains.
Of course, these items come at a price. A buttery, creamy, highly caloric price. That's why they taste so good, right? Luckily, we can do better at home.
This baked gnocchi was inspired by the creamed spinach that I desperately wanted to call dinner a few weeks ago. I added mushrooms, shallots, and garlic for flavor and then drowned it all in a velvety smooth cream sauce made out of silken tofu. If I hadn't made it myself, I never would have believed this meal was dairy free!
To keep this recipe dairy free, I sauteed the vegetables in MELT® Organic spread. This is a new-to-me spread that I can definitely see myself getting into. It's made from a blend of organic fruit- and plant-based oils (virgin coconut, flaxseed, hi-oleic sunflower, palm fruit, and canola) and is lower in calories and saturated fat than butter is. In addition to being dairy free and organic, MELT Organic is soy, trans-fat, and gluten free and doesn't contain any GMOs.
I tend to be wary of products that seem "too good to be true" but knowing that it's carried by my local food co-op (which tends to be extremely particular about what it carries) made me feel good about trying it out. (Click here to find out where you can buy it near you.)
I'll be honest: this spread kind of blew my mind. It looks like butter, it smells like butter, and it melts like butter (slowly swirling around the pan without separating or getting greasy.) It's also really, really good. When I was taking photos of this gnocchi I got some on the table and absent-mindedly wiped it up and licked my finger. I did a complete double take.
If you're in the market for a dairy free or lower calorie alternative to butter, I definitely recommend checking MELT Organic out.
MELT® Organic is a line of luscious, organic spreads made from healthy oils for butter lovers seeking a much healthier alternative, available in Rich & Creamy (original), Honey, and NEW Chocolate.
This is a sponsored conversation written by me on behalf of MELT Organic. The opinions and text are all mine.