I don't know about you, but I get tired of chicken and beef pretty quickly. The problem is that, since I always default to those protein options, it can be hard to break out of the rut and think of something different to make.
I usually end up doing something with shrimp or sausage, but I recently couldn't get crab cakes out of my head. I used to make them all the time, but at some point, they must have fallen off my radar.
I'm so glad I remembered though because crab cakes are such a perfect alternative to more standard proteins and these crab cakes are seriously fast and easy to make.
These simple baked crab cakes are a great way to make your next weeknight dinner feel extra special.
And since I bake them instead of frying them and use minimal filler, they were the perfect contribution to this month's #ProgressiveEats, where we're sharing healthy twists on some of our favorite recipes. (More on that later!)
Ingredients for Maryland crab cakes
To make these delicious crab cakes at home, you'll just need 6 ingredients. And I bet you have most of them in your kitchen already!
Crab meat. First off, you'll need crab meat. But what kind of crab meat is best for making crab cakes? I use lump crab, which comes from the body of the crab (not the legs or claws) and has an intense crab flavor. It typically comes in pretty large pieces, so it gives crab cakes great texture, too. For the best quality, look for refrigerated crab meat. You can also use canned lump crab meat. This has a lower price-point, but the texture can be a little more mushy than fresh crab.
Eggs. Eggs add moisture and help the crab meat bind together so you can form cakes with it. Traditional crab cakes often use mayonnaise for this, but I never have that in the house and eggs work just as well.
Ritz crackers. Along with the eggs, crab cakes typically use some breadcrumbs or crackers to help bind them together. I love the subtle buttery flavor that Ritz crackers give these crab cakes. They also add a slight crunch to the outside of the cakes! I like my crab cakes to taste like crab, not bread, so I use a very minimal amount of cracker crumbs. Just enough to get the job done!
Worchestershire Sauce.
Dijon Mustard.
Old Bay Seasoning.
Paprika.
How to make crab cakes
To make crab cakes at home, start by whisking together the wet ingredients and seasonings in a large mixing bowl.
Next, stir in the cracker crumbs. You can use a food processor or blender to make the crumbs or just do what I do and use your hands to crush them into a fine powder.
Finally, add in the crab meat and stir everything together. It will look like there's way more crab meat than anything else. That's ok! These are crab cakes after all. Cutting down on the filler keeps calories down and maximizes flavor. Talk about a win-win!
Next, let the crab mixture chill for at least a half hour. This will help it firm up so your crab cakes hold their shape!
Finally, it's time to for them crab mixture into cakes.
Divide the crab evenly into six portions. The, using damp hand, form each portion into a thick patty. Place the crab patties onto the baking sheet.
The crab cakes will very very fragile at this point, so treat them delicately!
Put the baking sheet in the oven and bake the cakes for about 15 minutes, or until they're golden brown and crisp on the top.
Pro-tip: For perfect and consistently sized crab cakes, use a 1/2 cup measuring cup to scoop out the crab cake mixture, then gently compress the cakes with damp hands.
Baked v. Fried
People can have strong opinions when it comes to whether crab cakes should be baked or fried.
Personally, I prefer baking them. Here's why:
The steady heat of the oven cooks the crab cakes gently, so you don't need to worry about the outside of the cakes getting to browned before the insides are cook through.
Frying the crab cakes also gives them a thicker, crunchier exterior that I find competes with the soft, delicate nature of crab. Baked crab cakes will still be a little bit crispy, but the overall texture will be more consistent and the exterior crust won't compete with the soft insides.
Baked crab cakes also don't need any oil. This keeps the fat content down and prevents you kitchen from taking on that fry oil smell.
Finally, it's just plain easier. All six crab cakes can bake at the same time, so you don't have to worry about cooking them in batches.
What to serve with crab cakes?
I served these easy crab cakes with lemon wedges and plenty of Greek Yogurt Remoulade Sauce. They're also great with homemade aioli.
On the side, I made baked potato wedges. These were also great dunked in the remoulade!
For a lighter meal, you could also serve these crab cakes on top of a salad. I like to use baby lettuces and balsamic vinaigrette.
They're also fantastic as a crab cake sandwich! Try them on a soft brioche bun and to p them with plenty of remoulade or your favorite tartar sauce.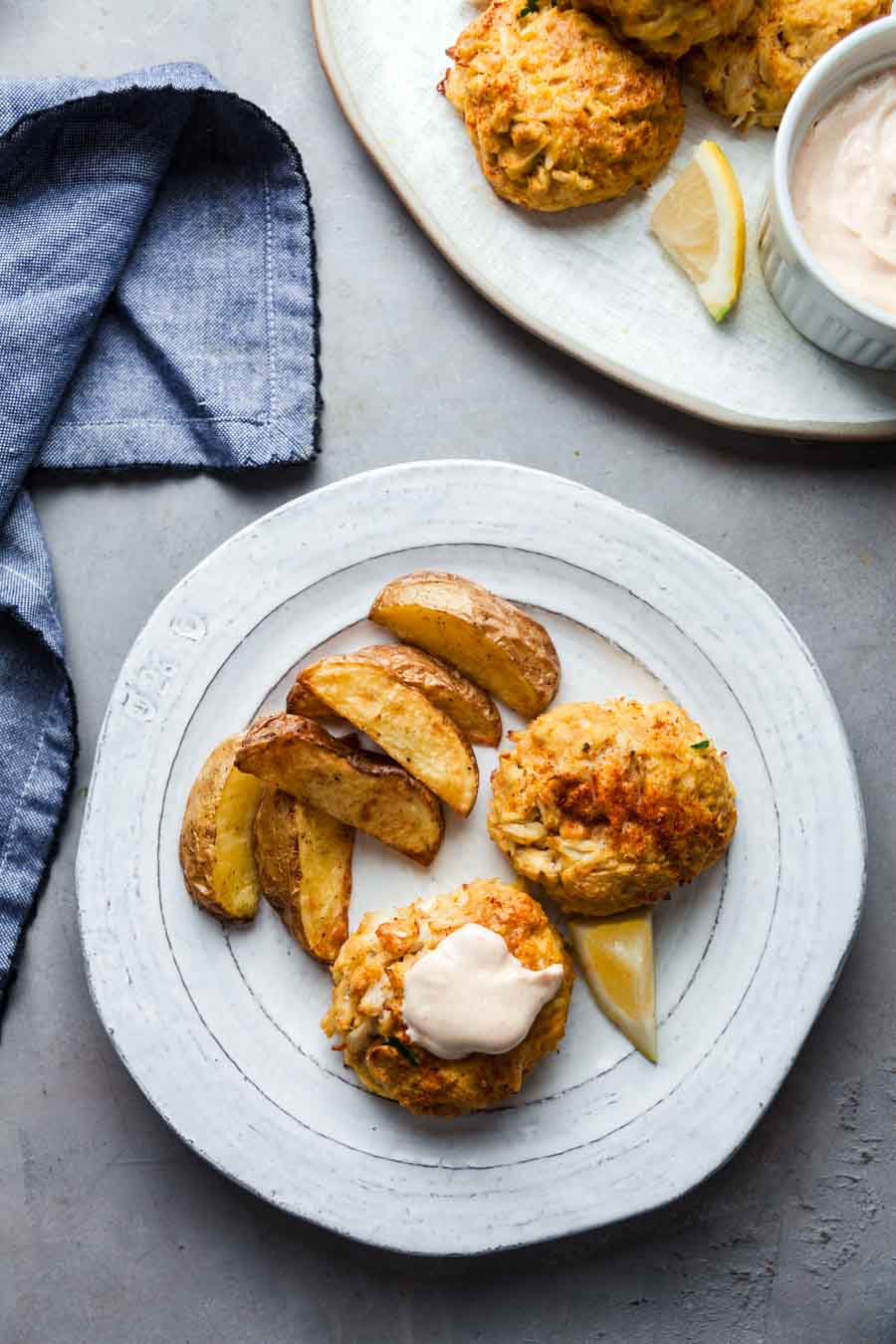 Welcome to Progressive Eats, our virtual version of a Progressive Dinner Party. This month's theme is about making favorite recipes healthier, and our host is Susan who blogs at The Wimpy Vegetarian.
If you're unfamiliar with the concept, a progressive dinner involves going from house to house, enjoying a different course at each location. With Progressive Eats it's a virtual party. The host for the month chooses the theme and members share recipes on that theme suitable for a delicious meal or party. Then you can hop from blog to blog to check them out. So come along and see all of the delicious and inspired dishes!
Healthier Versions of Favorite Dishes
Cocktail
Appetizers
Main Courses
Sides
Baked Crab Cakes
This Maryland crab cake recipe is baked in the oven instead of fried, so they come out perfect every time with less oil. My simple recipe uses minimal filler (and no mayo!) for the best texture and intense crab flavor. They're so easy to make, with just 5 steps. Serve these piping hot with lemon wedges and plenty of remoulade or tartar sauce!
Print
Pin
Save
Saved!
Ingredients
2

eggs

2

Tablespoons

Dijon mustard

2

teaspoons

Worcestershire sauce

1

teaspoon

Old Bay seasoning

1

pound

lump crab meat

9

Ritz crackers

crushed
Instructions
Preheat your oven to 450°F.

In a large mixing bowl, whisk together the eggs, mustard, Worchestershire, Old Bay, and paprika until smooth. Stir in the cracker crumbs until fully incorporated, then fold in the fold in the crab meat.

Refrigerate the crab mixture for 30 minutes to help it firm up.

Spray a baking sheet with nonstick spray. Using a ½ cup measuring cup, divide the crab mixture into 6 equal portions. Use damp hands to press each portion gently into a loose patty.

Bake for 15-18 minutes, or until the tops of the crab cakes are golden brown and slightly crisp
Nutrition Facts
Baked Crab Cakes
Amount Per Serving (1 g)
Calories 113
Calories from Fat 27
% Daily Value*
Fat 3g5%
Cholesterol 86mg29%
Sodium 769mg33%
Potassium 205mg6%
Carbohydrates 4g1%
Protein 16g32%
Vitamin A 111IU2%
Vitamin C 6mg7%
Calcium 58mg6%
Iron 1mg6%
* Percent Daily Values are based on a 2000 calorie diet.