I can't believe it's December already – where has this year gone?! Thanksgiving totally snuck up on me this year, and I was scrambling at the last minute to come up with something to bring to my parents house. Since there are usually a million desserts, I didn't want to bring anything sweet and since it takes us an hour to get there a side dish wasn't really an option because it would get cold. Finally, I decided on cheese. We never have any appetizers, and thought it would be nice to have something to snack on before the main meal was served.
Bakes brie is one of my standard holiday recipes. It's cheap and easy to make and it travels extremely well. And it always goes over well because who doesn't like cheese? I've been loving cranberries lately – especially when they're paired with pears – so I decided stuff my brie with a cranberry and pear chutney. I really liked the way that the tart berries played off the buttery brie. If you don't like cranberries or can't find fresh ones, raspberries are also fabulous in this recipe.
I used a President "Mini-Brie" for this, and was very happy with the results. The mini brie is a full pound – most round bries that I have been able to find are between 8 and 12 ounces, so this one was better for serving a larger crowd. The cheese itself was creamy without being so soft that it wouldn't hold it's shape and had a really rich, buttery flavor. I'll definitely be buying this brand again!
The chutney only takes about 15 minutes to prepare, but it can also be prepared ahead of time. Since I was rushed on Thanksgiving morning I went that route, which gave me extra time to get other things ready. Otherwise, you can prepare the chutney while the oven preheats. The cheese is also great served either warm out of the oven (just let it rest 10 minutes to allow the melted cheese to firm up a tad) or at room temperature. This makes it a great dish to bring to a holiday get-together.
I threw extra cranberries on the plate as garnish, and while they were beautiful, you couldn't really eat them. For a nice presentation, I would suggest making candied cranberries by boiling them briefly in simple syrup and allow them to cool. This will give them an icy shimmer and will make them sweet and soft enough to be eaten.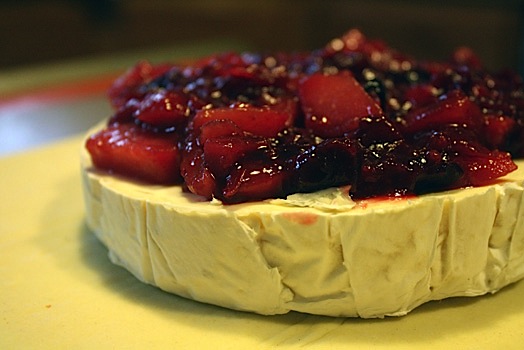 2 pears, peeled and cored

1 cup fresh cranberries

1/4 cup water

3 Tbs brown sugar

1 tsp orange zest

1 tsp grated ginger

1lb wheel of brie

1 sheet puff pastry

1 egg yolk



Preheat oven to 350.

Roughly chop the pears into 1/2-inch pieces. Combine pears, cranberries, water, and brown sugar in a small saucepan. Cook over medium heat for 5 minutes – the cranberries will begin to pop as they heat up. Add the orange zest and ginger and cook another 5-10 minutes, or until the fruit has broken down into a chunky sauce. Taste and add additional sugar if needed. Remove from heat – as the mixture cools, the pectin from the cranberries will start to gel and thicken a little more. At this point, you can refrigerate the mixture to use later.

To prepare the cheese, slice the cheese in half so that you have two wheels. Unfold the puff pastry and place one cheese wheel in the center with the cut side facing up. Top with the cranberry and pear mixture, and then place the second piece of cheese on top (cut side down). Gather the pastry up around the cheese, and pinch the edges to seal. Make sure there are no gaps, or the cheese will seep through when it melts! Flip the whole thing over so that the smooth side is on the top.

In a small bowl, combine the egg yolk and 2 Tbs water, Brush this mixture over the top and sides of the pastry. Bake at 350 for 30 minutes, or until pastry is browned.

Let rest for at least 10 minutes before serving.

Yields 12 servings

Approx. 25 calories, 16.5 grams fat, 1 gram fiber, 9.7 grams protein

By