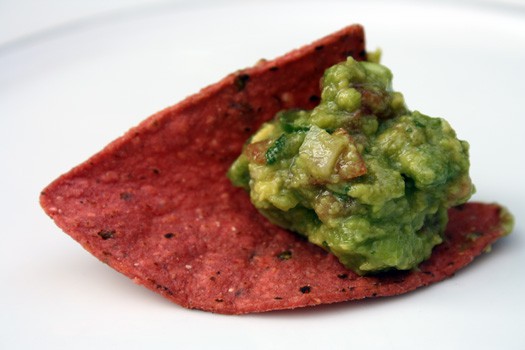 Avocado is one of my favorite things to eat, and it's found in two of my favorite dips. When I was in Mexico, I pretty much lived on this guacamole. Luckily, the resort that I was staying at had a "class" where they thought us how to make it so I can have it all the time! The tomatillo salsa is based on one from Rick Bayless. Its a nice change from a more traditional tomato-based salsa. Make these both and have an instant fiesta! It'll bring a little bit of summertime fun and flavor into your fall.
Chunky Guacamole
1 avocado, peeled and diced
1/4 red onion, diced
1 plum tomato, seeded and diced
juice of 1 lime
1 jalapeno, minced
1 small hand full of cilantro, chopped
sea salt to taste
Combine all ingredients. Mix well so that the avocado gets slightly mashed. Season to taste with sea salt.
Tomatillo Salsa
4 tomatillos, husked
1 garlic clove
2 jalapenos
1/2 cup cilantro
sea salt to taste
1 avocado, diced
Combine first 5 ingredients in a food processor. Process until smooth, adding up to 1/4 cup of water if needed. Stir in the avocado.

By