Well, its the last Friday of Lent and I'm actually a little sad. It was fun to try new fish and vegetarian recipes, and I definitely feel like my skill in cooking fish has greatly improved.I've made these tun burgers a few times, but not in a while. They have a really nice Asian flavor to them, but overall the flavor is still light. I served them with sweet potato fries tonight, but they also go amazingly with fresh pineapple if its in season and doesn't cost a fortune. For a lighter meal, they are also good served on top of field greens with a wasabi vinaigrette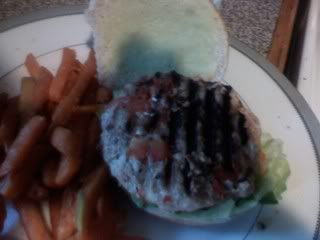 1 lb tuna steak1/4 red bell pepper3 cloves roasted garlic (regular if its all you have), minced1 tsp. ginger3 T. soy sauce2. tsp. sesame oila shake or two of steak seasoning1 tsp. sesame seedswasabi, to tastelettuce4 rolls
Add tuna to food processor and pulse a few times until it has the consistancy of ground beef. Remove to a mixing bowl. Add pepper to processor and mince. Add to tuna.
Combine peppers, tuna, and next 5 ingredients (through steak seasoning). Form into 4 patties.
Heat a grill pan over medium heat. Grill burgers approx 4 minutes on each side for medium-well burgers.
Spread a little wasabi on each roll. Add burger and lettuce.
Serves 4.