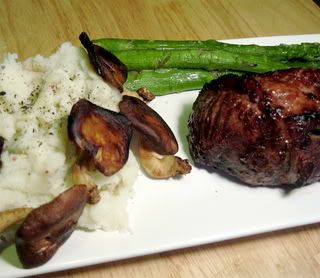 The Cheesecake Factory has an entree that involves steak and wasabi mashed potatoes. My husband ordered it once and it was actually pretty good… but I'm not a fan of the hour wait and $30 price tag that comes with eating at CF (I also try to avoid chain restaurants). He's been begging to go back so he could get it again, but I really haven't been feeling it. So instead, I decided to play with the idea at home.
The potatoes were good, but the glaze on the steaks totally stole the show. I was literally licking my fingers, my plate, and everything else that came into contact with it so not even a drop would go to waste. I used hoisin as the base, and the sugars in it caramelized a little on the grill. This sweetness was the perfect background to the punch of flavor that came from ginger and red peppers. I think this glaze would also be perfect on chicken or tofu. Or really, on just about anything.
I served this with grilled asparagus tossed with a touch of olive oil and a little sea salt. Ignore the mushrooms. they were burnt, woody, and gross. I apparently do not know how to cook shitakes. If you do, I bet they would be good with this too.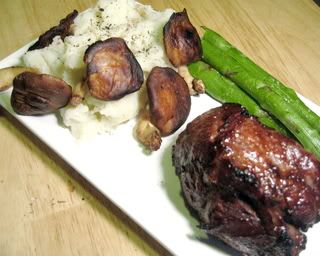 Asian Glazed Steak
4 4-ounce steaks, trimmed of fat
4 tsp hoisin sauce
2 tsp soy sauce
1 inch piece of ginger, peeled and grated
1 Tbs crushed red pepper
Set steaks in a dish. Smear each steak all over with about 1 tsp hoisin. Add some soy sauce- just enough to thin the hoisin out a bit (about 2 tsp should do). Spread each steak with plenty of grated ginger and sprinkle generously with crushed red pepper. Let these sit for a few minutes while the grill heats, then grill them until they reach your desired level on doneness- for these I recommend about a medium.
Wasabi Mashed Potatoes
2 large white potatoes, cubed (leave the skin on- it contains a ton of nutrients, and is so thin you won't even notice it in the final product)
1/4 cup fat free sour cream
generous splash of milk
wasabi powder to taste, about 2 Tbs
cracked black pepper
Boil potatoes in a large pot until they are tender. Drain. Mash with a potato masher. Add milk and sour cream, and continue to mash until they reach your desired consistency (I like to keep mine a little lumpy). Add wasabi powder a little bit at a time, stirring well to incorporate. Serve potatoes topped with cracked black pepper.

By