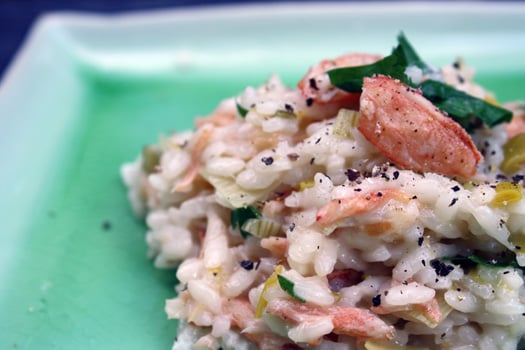 It's been a while since I've posted a good risotto, but this one is worth the wait – it combines some of my favorite flavors – crab, leeks, and lemon, and goat cheese. It's a lot lighter than other risotto's that I've made, which makes it perfect for summertime.
The ingredients that I used were really good quality, and I think that made a big difference in how this turned out. Nearly everything came from the co-op; most of it was organic, and all of it was super fresh. The lemon was the most lemony lemon Ive ever had, and I've never had parsley with so much flavor. I never even realized that parsley could have that much flavor!!
The crab was from the Asian market and the chicken stock was Emeril's and was sent to me try try as part of the Foodbuzz Tastemaker program. I was very happy with this stock and would buy it again. It was all-natural and has a nice flavor without being too overpowering. It was also paler in color than other stock's that I've purchased which is nice because it doesn't discolor you're final dish at all. (Unfortunately I wasn't thinking when I used this, so we don't have a true meat-free Friday this week – you can easily substitute fish stock or vegetable stock though if you want! Fish stock would actually be perfect.)
Risotto with Crab and Lemon
4 cups chicken stock (can sub fish or vegetable stock)
1 cup dry white wine, such as sauvignon blanc
1 cup water
1 stalk celery, cut into thirds
1/2 small white onion
2 Tbs olive oil
1 large leek, cut into half moons
1.5 cups arborio rice
1 oz chevre
1/4 pound crab claw meat
zest of 1 lemon
1 Tbs butter, cut into small pieces
1/8 cup parsley, chopped
sea salt and black pepper
Bring stock, water, wine, celery, and onion to a boil in a medium saucepan. Reduce heat and let simmer.
Heat oil in a large skillet. Add leeks and cook until soft. Add rice and cook 2 minutes or until heated trhough and nearly translucent. Add 2 cups of the broth and allow to cook until nearly dry. Add additional broth 1/2 cup at a time, allowing nearly all of the broth to absord before adding more. CContinue this process until rice is soft and creamy – it should take about 20 minutes, but you may not need all of the broth.
Stir in chevre and allow to melt and fully incorporate.Gently stir in crab, zest, butter and parsley. Season to taste with salt and pepper.
Serves 4.