Once upon a time, almost 10 years ago, I spent a weekend in Hyannis Port. I sat at a sidewalk cafe, basking in the July sun and trying to not look ridiculous as I cracked open the lobster I had ordered for dinner. I had no idea what I was doing and it was very hard to not make a mess (I had stubbornly refused the bib that the waiter had politely offered.) Then, out of nowhere, I saw Ted Kennedy walking down the street. Eating Ben and Jerry's. And suddenly I felt very silly. What was I doing struggling with a stupid lobster that had next to no meat in it when there was a Ben and Jerry's less than a block away? For the rest of the dinner, I could only concentrate on two things: "OMG Ted Kennedy is in town" and "I'm so getting ice cream when we're done here."
And that marks the last time I was ever able to think about lobster without also immediately thinking about Ted Kennedy. OK, OK, it also marks the last time I ever ate a whole lobster. I mean, why bother? They're good, but only because they're drowning in butter. They're a pain in the butt to eat, not elegant at all, and you'll finish dinner still starving since you only actually ate about 3 Tablespoons of food. They're just not my thing. Other full-sized menu items with lobster in them though? Like Connecticut-Style Lobster Rolls or Lobster Risotto? Sign me up. Pairing that lobster with pasta, in Lobster Mac and Cheese or Ravioli? Even better — much more lady-like to eat and much less chance of leaving the dinner table still starving. (Although I'm also not one to pass up a lobster tail, provided it comes with substantial side dishes that will fill me up!)
Which is why I was so excited to see that Buitoni's new line of frozen dinners includes a shrimp & lobster ravioli. I had been searching high and low for this product for weeks, when I received an email from Foodbuzz asking for people to host a dinner party that pairs one of the new entrees with a vegetable side dish. Score! I immediately knew what I wanted to propose: I'm not really one for dinner parties and something about lobster ravioli seems so sexy to me that it seemed obvious to use the product as the basis for a quick and easy romantic weeknight in. Paired with a special yet simple-to-make salad dressed with homemade champagne vinaigrette and served with a glass of crisp champaign, this is the kind of meal that demands you turn the TV off and actually talk to each other. The whole meal can be prepared in 20 minutes (and with just one pot) and the price can't be beat. They make it so easy that there really isn't an excuse not to have a nice dinner at home. Why not celebrate a special occasion (oh,say, a tuesday) with a great meal like this?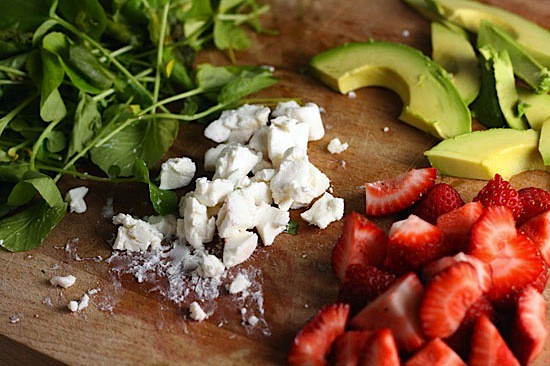 Of course I do have a few thoughts in the ravioli that I can't help but share. I know that we just had a great conversation about how cooking from scratch is where it's at and how there's no need to rely on convenience foods. But really, some things just aren't practical to make. Like pasta. Yes homemade is best, but I just don't have time to do that every time I want pasta. Plus, that would be a little insane. I wasn't really sure what to expect with this product though, and I was a little worried that the pasta and sauce would already be mixed together — heat and serve style. I shouldn't have worried. The ravioli is just frozen ravioli like any other brand that you might buy (only filled with huge pieces of lobster and shrimp)! The sauce is packaged and heated separately. And the ingredients are all recognizable.
The ravioli itself was delicious. I would totally buy it again. But next time I'd ditch the sauce and make my own. It wasn't bad, but I would have preferred something a little more delicate. The butter and garlic sauce provided was just too heavy and too garlicky. It reminded me on the topping on garlic bread. I thought it overpowered the rest of the dish. In the time it take to boil the ravioli, you could easily make a white wine and butter sauce with fresh herbs instead. And still have time to make a delicious salad to round out the meal — might I suggest this one with watercress, 1/2 an avocado, 1 ounce of goat cheese, and chopped strawberries dressed with a homemade vinaigrette?
Champagne Vinaigrette
1 Tb shallot, minced

2 Tbs champagne

2 Tbs extra-virgin olive oil

1/2 tsp dijon mustard

salt and pepper
Combine the first four ingredients in a jar with a tightly fitting lid. Put the lid on the jar and shake well until combined. Season to taste with salt and pepper.

Serves 2.

Disclaimer: This post was sponsored by Foodbuzz and Buitoni; however, the opinions stated above are my own and were not influenced by the sponsors.

By