On the weekends, I love spending hours experimenting in the kitchen (I can't wait to share the soft pretzels I made recently – they're PERFECT!) but when it comes to weeknight meals, I can be incredibly lazy.I just don't have the time or energy to cook anything too involved. That's why recipes like this 30-minute Bistro Chicken are some of my favorites. It's so easy to make and – since everything cooks in the same pot – it's easy to clean up.
Chicken thighs are one of my weeknight staples. As long as you buy small ones (about a quarter pound each) they cook up really quickly. I like to crisp up the skin on the stove before adding tons of vegetables and finishing the whole thing in the oven. If you take advantage of the time it takes for the chicken skin to brown to prepare the vegetables, you only need to be in the kitchen for about 10 minutes – which gives you 20 minutes to sit down and put your feet up.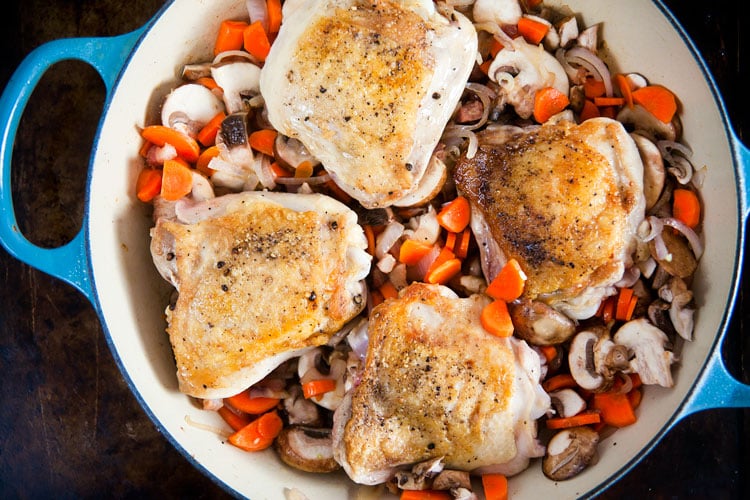 For this Bistro Chicken, inspired by a special they ran recently at one of my favorite restaurants, I add crispy pancetta, tons of shallots, mushrooms, and carrots. It all cooks together with chicken stock that ends up being a delicious sauce that gets finished with mustard and a splash of cream. It's delicious (and filling) on it's own, but it's even better if you have some mashed cauliflower to soak up the extra sauce.
Since the ingredients in this recipe are so simple, it's important to use a good quality stock – I used Perdue's new Signature chicken stock, which comes refrigerated (look for it near the chicken) and doesn't contain any preservatives or artificial flavors. Since the chicken and pancetta are pretty salty on their own, I opted for the reduced sodium version which worked out perfectly.
Disclosure: I received PERDUE® Signature Chicken Stock from Perdue in conjunction with a sponsored social media campaign through Sunday Supper LLC. All opinions are my own.
By