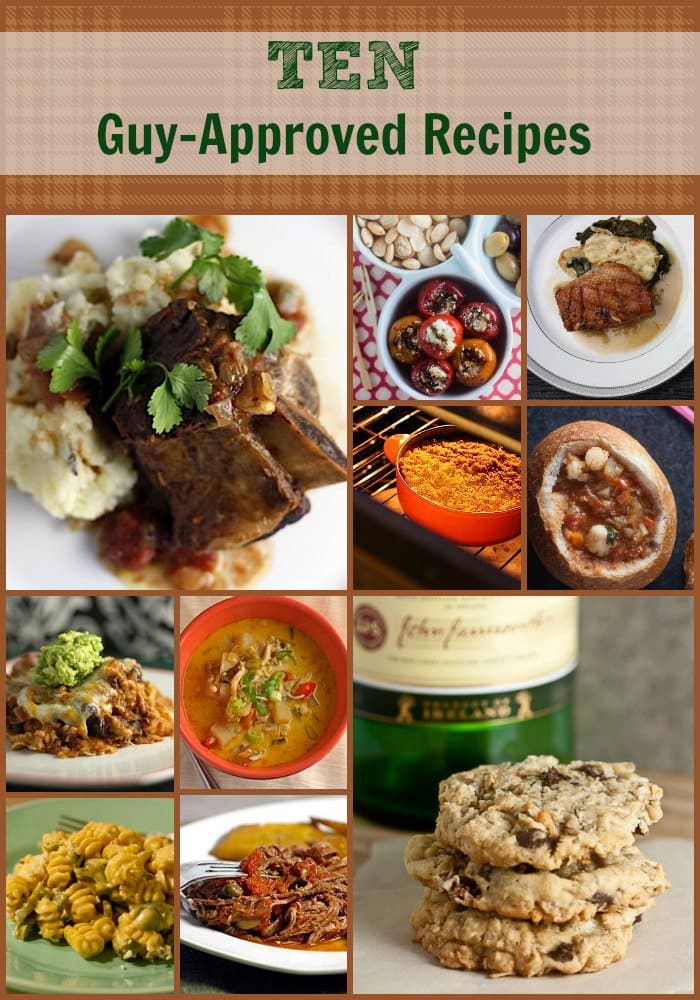 Today, instead of posting a new recipe, I'm joining a group of bloggers who decided to proclaim it "Significant Other Appreciation Day" and do a post all about the person that sits across the kitchen table.
I write about Shawn all the time, but I never really "introduced" him, so I thought this was a fun idea. There's a short interview with him and I had him think back through all of the recipes I've posted over the years and pick his absolute favorites.
I really appreciate everything that he puts up with for this blog: from eating lukewarm meals that have been manhandled so I could get the perfect photo, to politely eating at least a few bites of all of my recipe flops, to basically never getting to eat the same dinner twice. He's my chief taste-tester and my food-photo-site-submitter (if you're a blogger, you know how important that last one is!)
He's super smart and he always makes me laugh.
Sometimes he even cooks.
He's my favorite. (Considering the fact that we've been married for 8 years and have been a couple for 14 – omg – I would hope so!)
Meet Shawn.
Me: What is my favorite blog called?
Shawn: Is Pinterest a blog? No?
Me: What's my favorite prop?
Shawn: Uh, its a… grey floor tile
Me: What is the weirdest thing you've seen me do for a blog post?
You videotaped going to the farmers market.
Me: That's weird?
Shawn: Yeah, for you!
(Note: I'm pretty sure I've done much stranger things. Like baking Christmas cookies in June, Dying Easter Eggs in February, or flying across the country to do a demo in front of hundreds of people despite that fact that I'm terrified of public speaking. But ok, we'll go with the farmer's market video.)
Me: If you could have your own blog what would you call it?
If I could come up with a name, I would already have a blog.
Me: What do you do for a living and what are your hobbies?
Shawn: I run a residential program for disabled adults. My hobbies include driving, reading (you know… looking at pictures on Reddit), and dining in and out.
Me: Who does the dishes?
Shawn: The dishwasher? I guess it's me… but only when I have to.
Me: What's the worst thing I've ever made you eat?
Shawn: Atichoke skin. (Backstory: This was forever ago. I was trying to make a recipe for Jeruaslem artichoke chips that everyone at weight watchers was raving about, but I didn't realise that Jerusalem artichokes weren't the same as regular artichokes. He's right: they were gross.)
Me: What's the best thing I've ever made?
Shawn: Short ribs. Or Lamb in Fiery Chili Sauce!
10 Guy-Approved Recipes, handpicked by Shawn:
(You'll notice a few trends here. All of these recipes have big, bold flavors and, for the most part, the only vegetables you'll find are in the form of hot peppers or tomato sauce. There's also lots of whisky. While they're all delicious, it's pretty obvious that it's a list that was cultivated by a guy.)
2) Goat Cheese Stuffed Peppadews
3) Crispy Duck with Whisky Sauce
4) White Bean, Sausage, and Turkey Cassoulet
5) Seafood Chowder in Bread Bowls
6) Taco Bake
7) Spicy Crab and Corn Chowder
8) Jalapeno Popper Macaroni and Cheese
9) Ropa Vieja with Olives and Capers
10) Oatmeal Cookies with Whiskey-Soaked Cherries
Want to learn more about some of the other men behind the blogs and learn about their favorite foods?
Lauren from Keep It Sweet Desserts made M&M Kit Kat Cake
Rachel from Rachel Cooks made Whole Wheat Chocolate Chip Cookies
Shanna from Pineapple & Coconut made Best Ever Chicken Enchiladas
Meaghan from The Decorated Cookie made Homemade SpaghettiOs
Liz from The Lemon Bowl made Lebanese Meat Pies (Sfeehas)
Cassie from Bake Your Day made Something Fabulous
Erin from The Law Students Wife made Chicken Stir Fry with Thai Peanut Sauce
Heather from Sugar Dish Me made Bourbon Apple Shortcakes
Dorothy from Crazy For Crust made Pretzel Toffee Peanut Butter Cookies
Lauren from Climbing Grier Mountain shared At the Table with Mr. B
Tanya from Lemons for Lulu made Something Fabulous
Erin from Texanerin Baking made Healthier New York Times Chocolate Chip Cookies
Jen from Jens Favorite Cookies made Chocolate Pudding
Jamie from Thrifty Veggie Mama made Something Fabulous
Diane from Created By Diane made Rocky Road Cookie
Nikki from Seeded at the Table made Oatmeal Cream Pie Ice Cream Sandwiches
Meagan fron A Zesty Bite made Something Fabulous
Taylor from Greens & Chocolate made Something Fabulous
Amanda from i am baker made Classic Cheesecake with Double Crust
Kristy from Sweet Treats & More made Something Fabulous
Erin from Dinners, Dishes, and Desserts shared a Round up of Hubbies Favorites
Rachel from Set the Table made Mexican Chocolate Shake
Julie from Julie's Eats and Treats made Something Fabulous
Stefani from Cupcake Project made Graham Cracker Waffle Cones
Katerina from Diethood made Something Fabulous
Betsy from Java Cupcake made Something Fabulous