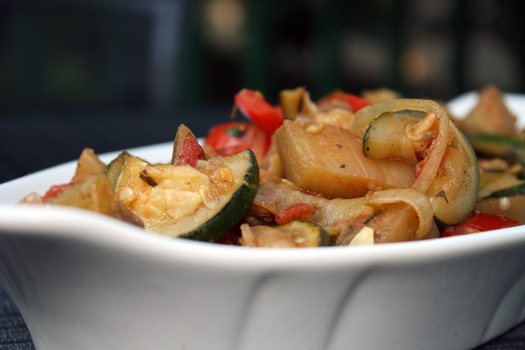 Last weekend, was Shawn's 10 year high school reunion. We went out to a restaurant/bar where they were playing the movie ratatouille on a big screen on one wall. I had forgotten what a great movie that is! We saw it when it first came out, but then I had kind of forgotten about it and I never saw it a second time. It definitely kept me entertained while he caught up with everyone from school.  Anyway, when Shawn came home from work with a big bag full of tomatoes and basil that he had gotten from work, I knew immediately what I wanted to make. I had a leftover zucchini that I never used last week, and a boatload of plum tomatoes from my garden, so ratatouille was perfect.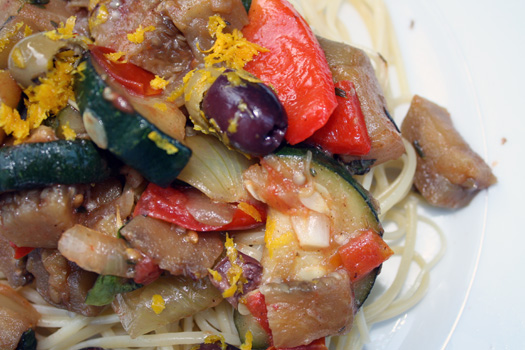 This is a very versatile dish – it's really easy to make a big batch and then use it in different preparations all week. It's wonderful on its on as a side dish, cold on top of a salad, or in an omelet. For dinner tonight, I used scooped some on top of some DeBoles Jerusalem Artichoke Flour linguine and topped it with some mixed olives, orange zest, and shrimp. It was fantastic – sort of a fusion of French and Italian (perhaps Fritalian?).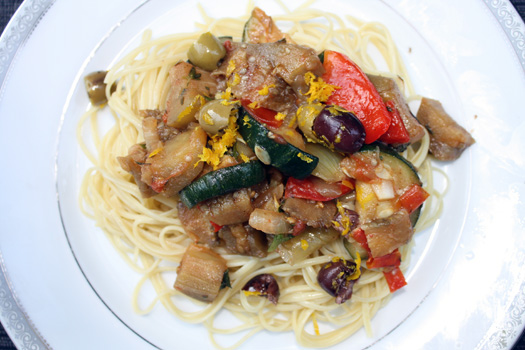 If you look at bunch of ratatouille recipes it seems like no two are the same, but there are two distinct camps: one that dumps everything together and lets it stew so that the flavors meld, and one that cooks the items seperately and then mixes them together at the very end. I chose to do something in between the two – I cooked everything together but layered the flavors, pushing everything to the side with each addition so the new ingredients could cook alone for a minute or two. I felt like this was a good compromise. The vegetables maintained their integrity, but the flavors still came together nicely. It was also a lot less time consuming than cooking each vegetable seperately.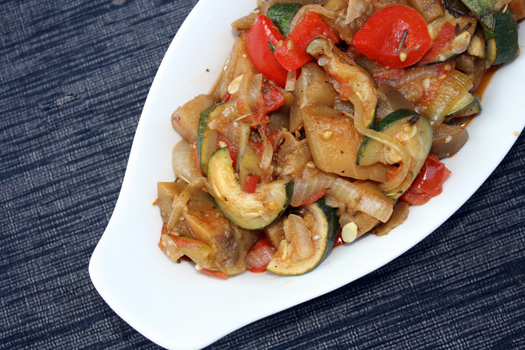 Ratatouille
2 medium eggplants, peeled and cut into 1-inch cubes
2 Tbs olive oil
1 onion, thinly sliced
4 cloves garlic, sliced
1 red pepper, chopped
handful fresh thyme
2 Tbs dried rosemary
2 Tbs dried parsley
1 medium zucchini, cut into half moons
4 plum tomatoes, chopped
1/2 cup fresh orange juice
palmful fresh basil, chopped
salt and pepper
Place eggplant in a collander. Toss with 2 tsp salt and let drain.
Meanwhile, heat olive oil in a large skillet over medium heat. Cook onions until they begin to caramelize, about 5 minutes. Add garlic and cook until fragrant. Push onions to one side of the pan, and add red pepper, thyme, rosemary, and parsley to the other side. Cook until pepper begins to often, about 5 minutes. Push to the side of the pan with the onions, and add zucchini to the empty side of the pan. Cook a few minutes until zuchinni begins to soften. Mix into other ingredients in the pan. Add eggplant and deglaze pan with 1/2 cup water. Cook until eggplant begins to soften – around 10 minutes. Add tomatoes, and cook until they begin to fall apart and create a sauce. Add more water if needed.
When tomatoes have fallen apart and formed a sauce, use a slotted spoon to transfer vegetables into a collendar, leaving juices behind in the pan. Increase heat to medium-high, and reduce juices into a thick gaze. Stir in orange juice. Remove pan from heat and readd vegetables, tossing to coat them in theglaze. Fold in basil and season to taste with salt and pepper.
Yields about 5 cups ratatouille.
Serving sugesstion: Stir 1/4 cup pitted mixed olives and the zest from 1 orange into two cups ratatouille. Serve with shrimp over pasta.
****
The people over at MyBlogSpark reminded me of this cool opportunity- if you're anything like me, you love to enter recipe contests. Now, you have the opportunity to be on the other side of things – as the judge! If you go to bakeoff.com, you can vote for your favorite recipes in the Pillsbury Bake-Off. A new pair of recipes will be featured every week though October 1. The recipe from each pair that wins the most votes will earn a spot in the final competition, where overall winner will take home $1 million (!!!).  Let's see if we can swing this contast toward the healthier recipes! 😉