Peppers make such nice little containers, don't they?
I remember having a crab stuffed pepper at my grandparents house that I loved.  I was probably 5 or 6 at the time. After that, I would always insist that I liked stuffed peppers, but whenever I had one I would be disappointed – they were always heavy and meaty and the pepper itself didn't seem to make sense flavor-wise.  But I finally found another stuffed pepper that I like. This pepper isn't like those other ones: the bulk of the filling is orzo, which is mixed with pasta sauce, cheese, and your favorite pizza toppings. Its not nearly as dense as  traditional stuffed pepper, and using fresh ingredients keeps the flavors light.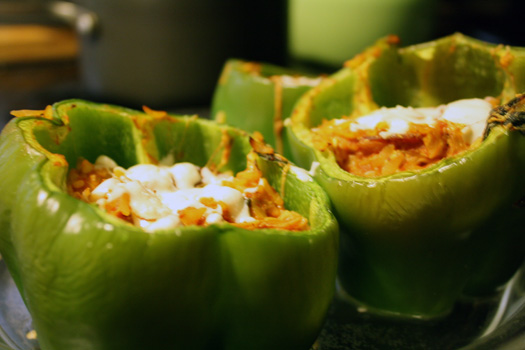 I really like peppers as a pizza topping, so the pepper itself actually compliments the flavor of the stuffing. One of my favorite topping combinations is pepperoni and peppers, so I decided to go with that theme this time. I think it would also be great with sausage, mushrooms, and sauteed onions in the filling. I think I'll try that next time. Really, you can use whatever you typically like on your pizza – just keep the meat to about 1/4 of the volume of the filling or less so you don't end up with a heavy, greasy pepper.
Pizza Stuffed Peppers
1/2 cup orzo
4 bell peppers
3 oz pepperoni (I used reduced-fat turkey pepperoni)
1/2 cup pasta sauce
1 Tbs Italian seasonings
1 tsp crushed red pepper
6 oz mozzarella, shredded
Boil orzo according to package.
Prepare peppers by slicing off the tops and removing the seeds and membranes from the inside. If needed, cut a thin slice off the bottom of each pepper to help it stand up. Arrange peppers in a baking dish.
Heat the pasta sauce in a medium saucepan. Stir in the pepperoni, seasoning, and 3/4 of the cheese. Divide the filling between the peppers. Pour about 1 cup of water into the bottom of the bakign dish, around the outside of the peppers. Bake at 350 for about 30 minutes, or until peppers soften. Top with remaining cheese and return to oven until cheese melts – about another 5 minutes.
Serves 4.