I can hardly believe it, but I missed the 1 year anniversary of me starting Healthy-Delicious.com! I can't believe it's been a year already. I've had the blog for much longer than that, but I only started posting regularly last winter, and it was last March that I moved it to my own domain.
Anyway, CSN stores offered me a product to giveaway and I thought it would be a fun opportunity to give away a great gift to one lucky reader in celebration of the blog's birthday. This is a good one, folks! I spent hours pouring through the CSN websites choosing the perfect gift… they have everything imaginable: from cooking gadgets to board games, and dog beds to tv stands. It's all divided up into smaller stores though, so it's pretty easy to navigate. They also have some really awesome deals and special values on some of my favorite cookware. So what did I choose for you? You'll have to read on to find out. 😉 You won't want to miss this one!
First, see all that delicious food up there? Remember last year's 24-hour NYC food whirlwind? Well, we did it again, and this year it was even better! I met up with Mo, Sarah, and Carol on Saturday and we proceeded to eat our way through NYC (sharing portions here and there so as to not be completely gross about it)!. Our first stop was the Radiance Tea and Book House, where we shared a pitcher of the most amazing iced tea I've ever had (It was sweetened oolong tea with honey soaked fruit in it — it was almost like sangria with all that fruit!) and I ordered a side order of soupy pork dumplings. I love dumplings, and these were some of the best I've ever had. Sarah had an awesome looking ice cream sundae with homemade green tea, red bean, and mango ice creams and Carol ordered a really fun sticky rice and bean dessert with coconut milk and toasted nuts. I had a bit and it was SO GOOD! This place was a real find… not too crowded for a Saturday afternoon, it was the perfect place for a nice leisurely chat so we could all catch up. We did some sightseeing and stopped at the cutest little cheese shop for a snack — nothing like eating cheese on the sidewalk! Did some more sightseeing before we parted ways for dinner. Mo, Sarah, and I headed back to Mo's neighborhood for a repeat of last year's roast pork — which as even better this year! We also shared a few pitchers of sangria.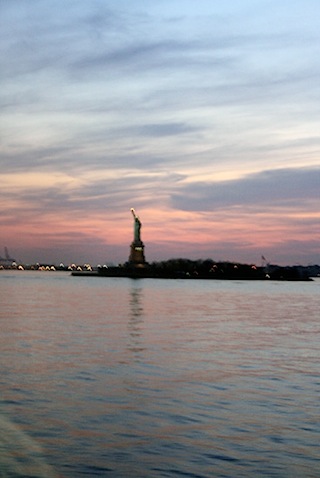 On Sunday, we headed out for breakfast at a Gluten Free Bakery called Tu-Lu's that Sarah was excited to check out. This was the cutest little place and the owner is absolutely adorable! I got some mini cupcakes to test out (who said you can't have cupcakes for breakfast?) I was really impressed with how soft and fluffy they were for being gluten free! I was worried they would be dense or gritty, but they weren't at all. I would eat these again anytime. My favorite was the Red Velvet. Then we headed to S'Mac for lunch, where Mo and I shared a sampler. Eight kinds of mac and cheese. They were all really good, and it's impossible to pick a favorite. After that, we hung out for a little while more and then I headed home.
Now, even though I did lots of sharing and really didn't go too far overboard, that's a lot of food! But it just so happens that last week someone from iChange.com contacted me about a free 30-day trial for myself and any of you that might be looking to lose a few pounds (summer's just around the corner! Eep- shorts!). The site is new, so they're looking for people willing to try it out for free and give them some feedback. The site looks pretty cool — they'll put us in a private group and match us with a nutritionist who will help us analyze what we eat and keep us on track. It's not a restrictive "diet" plan, but a way for a group of friends to support each other while easily keeping track of what they've eaten. If you want to join me in a 30 days challenge, you can do so by signing up HERE.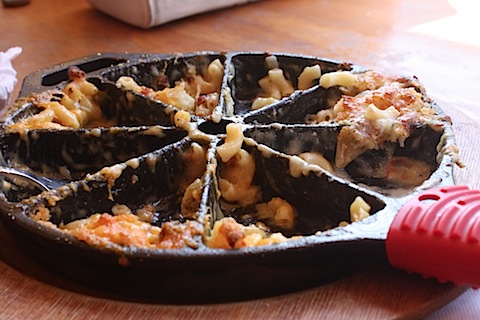 Ok, so back to that giveaway. Who wants some Le Crueset? 🙂 I'm so jealous that I can't keep this for myself! I recently bought my first piece of Le Crueset stoneware and it's so much nicer than any of the other stoneware pieces that I have. It's much heavier and sturdier, and the colors are gorgeous. Here's your opportunity to win two pieces for yourself! If you win, CSN will send you a 10.5″x7″ baking pan and a 7″x5″ baking pan in kiwi (a really cute spring-y green). These are perfect for baking in and would also be great for transporting a side dish to a summertime picnic or neighborhood potluck.
To enter, leave me a comment on this post. For an extra entry, you can tweet about the giveaway (reference @HealthyDelish so I see it!) or for two extra entries you can link to it form your blog (leave me the link in the comments here so I see it!). You have until next Tuesday (March 30) to enter, and I'll announce a winner on my birthday – March 31! (The giveaay is only open to US and Canadian residents — my apologies to everyone else!)
This is the color that you'll receive:
But in the two dish set like this:
Good luck, and thanks for making this past year so great!