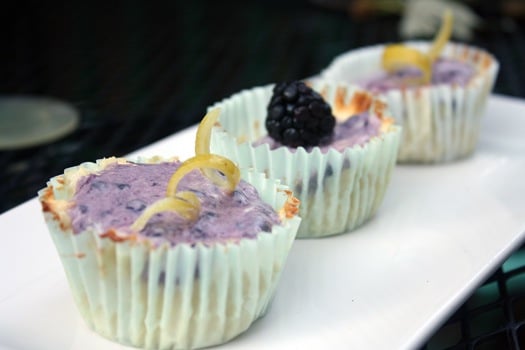 I love fall, but I've been a little bummed that summer seemed to come and go so quickly this year — it rained almost every day in July and we really only had about two weeks of really nice weather before it started to get cold outside. I decided that even though they aren't exactly season-appropriate, I would bake some lemon and blackberry cupcakes to remind myself of the warmer days. I may have spent the past few weeks bundled up in a winter coat and eating apples and squash, but one bite of these cupcakes will transported me right back to summer.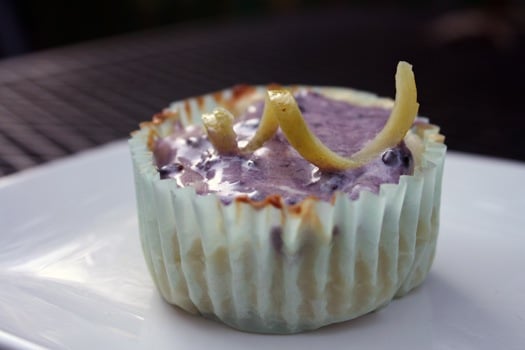 There was some nice ricotta on sale buy one get one free last week, so I happened to have some on hand. The ricotta-based cake that I used for the cupcakes is one of my favorites — it has a nice texture that's dense and light at the same time and a flavor that's reminds me a little of cheesecake. It's also really easy to make — I think it might be even easier than mixing up a cake from a box!
Using summer as my flavor inspiration, I decided on a lemon cupcake with blackberry icing. Nothing says summer more than juicy berries, and lemon gave them a nice brightness. I actually cheated a little by blending some berries into store-bought icing that I had in the fridge. It wasn't as good as a homemade buttercream would have been, but it was a lot faster and easier! Its an easy way to dress up store-bought icing, and is a good trick to keep on hand.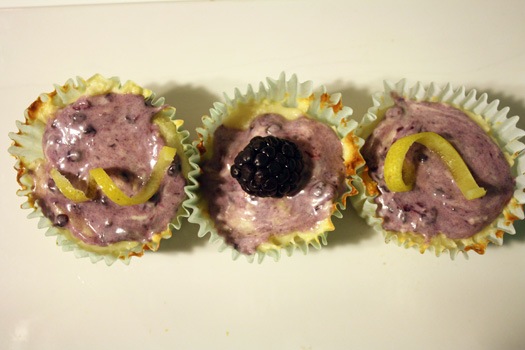 Lemon Ricotta Cupcakes with Blackberry Icing
2 cups good-quality part-skim ricotta

1/2 cup sugar

1 egg + 1 egg white

1 tsp vanilla extract

3/4 cup cake flour

1 tsp baking soda

1 dash salt

1 lemon, zested

6 Tbs prepared vanilla buttercream

1/4 cup blackberries
Preheat oven to 350.
Combine ricotta, sugar, 1 egg, vanilla, flour, baking soda, and salt in a food processor. Blend until smooth. Gently fold in flour.
Use an electric mixer to beat the egg white until soft peaks form. Fold the egg white into the batter. Spoon mixture into a lined cupcake pan, filling each cup about 3/4 of the way. Bake 20 minutes, or until the tops spring back when you touch them lightly and a toothpick inserted into the top comes out clean. Allow to cool completely.
Meanwhile, mash the berries with a fork. Mix into the icing. When cupcakes are cool, spread about 1 Tbs icing onto each of them.
Top with whole blackberries or candied lemon peel.
Serves 12.
Approx. 165 calories, 5.8 grams fat, 0.5 grams fiber, 6.5 gram protein.
****
I'm excited to announce that I have partnered with the great site, Springpad. I've been looking for a site like this for a while – it's a great way to save and organize recipes and inspiration that you come across while reading blogs so that you can access them from any computer. You'll notice that below my recipes there is a "save it" button. Clicking this button will save the recipe to your Springpad account. You can even add your own notes! So if you don't like the sound of the cupcake (I don't know why you wouldn't!) but are inspired by the blackberry-lemon combination, you can make a note of that on your account. You can also save a bookmark button that will allow you to easily save recipes from sites that don't include the button in their post.
The site has lots of cool features. Like once you have a few favorites saved, you can even use the meal planner app to pick a few recipes, and it will generate a shopping list for you! Pretty cool! And like any other social networking application, of course you can follow me and make sure you never miss a recipe.