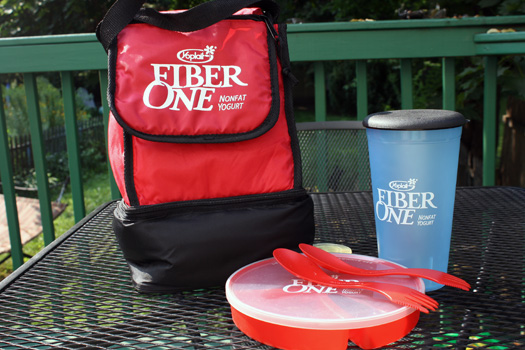 In honor of the newly launched FiberOne yogurt, MyBlogSpark has given me THREE of these great gift packs to give away!
I don't know about you, but I always bring my breakfast and lunch to work. Its cheaper and healthier (and usually tastes way better!) than anything that I could get out. The insulated cooler in this pack is great! It's really big, but not too bulky. Also that black part on the bottom zips open and it the perfect size to fit my 1.2 Qt covered pyrex, which is my favorite thing to pack soups and salads in. There's also a zippered pouch on the top flap. The divided container has three sections, which is perfect for packing oatmeal or yogurt and toppings to make a parfait. The lids on the container and cup also fit really well, I tried them out a few times with no spills. You'll also win two combination knife/fork/spoon things (kind of like sporks but with knives too) and a coupon for a free 4-pack of FiberOne yogurt.
So I know you're wondering – how's the yogurt? I tried it, and it's pretty good! Definitely sweeter than the Greek yogurt that I usually eat, and I could detect an artificial sweetener taste in it (I don't eat artificial sweeteners very often anymore). The texture was nice, and the vanilla flavor reminded me almost fo vanilla pudding. It was great with some fresh cherries on top! The nutritional information (50 calories and 5 grams of fiber!) and price on these can't be beat – I'll most likely buy them again, especially if I have a $1 off coupon.
I'll pick three winners using the random number generator next Saturday (August 22). To enter:
Leave a comment telling me what your favrrite weekday breafast is
For an extra entry, become a follower of Healthy Delicious and leave a second comment (if you're already a follower, leave a comment telling me so)
For yet another entry, link back to this contest and leave me a comment letting me know.
Deadline for entries is 10pm on Friday, August 21. Good Luck!!
Unfortunately because this will be shipped directly from MyBlogSpark, only US residents are eligable.