This recipe had me scared for a little bit while it was cooking. There were SO MANY vegetables. The fennel smelled really strong. And I was worried that the whole dish was going to feel really dense and carb-y. I should have trusted my instincts though, because the vegetables cooked down lot and got very soft- they almost turned into a chunky sauce- and the fennel mellowed a lot as it cooked. You couldn't pick it out at all. The entire dish comes together perfectly, is a beautiful color, full of vitamins, filling and cheap to make. I think we have a winner!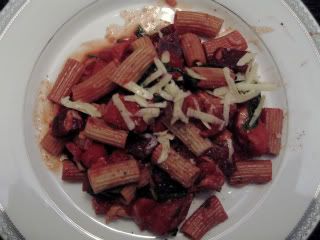 I discovered a new pasta when making this- DeBoles Organic Whole Wheat with Jerusalem Artichoke Flour. Its kind of pricey, but its sold by the half pound which makes it not too bad. OMG is it good. It seemed less harsh than other whole wheat pastas and it actually came out al dente instead of hard and grainy. i highly recommend it.
If you hate beets you'll definitely want to leave them out, since they have a distinct flavor even when combined with everything else. I would try subbing turnip and baby spinach for the beets and beet greens if you want to you that route. But if you like beets even a little, I would stick with the original because its really, really good.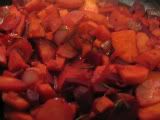 I can't tell you ho many servings this makes because I haven't finished it all yet. It makes a ton though- We had it for dinner and I had it twice for lunch (maybe a slightly smaller serving), and I'd guess I have enough for another 4 lunches.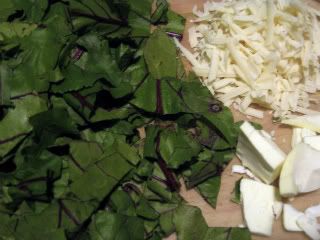 2

tbs

olive oil

1 red onion, chopped

1 bulb fennel, cut into small pieces


2

parsnips, peeled and cut into rounds

1 yam, peeled and cut into 1/2 inch cubes

3 beets, peeled and cut into cubes (1/2 inch), greens chopped and reserved

1 clove garlic, minced


1 small palm full fresh rosemary, chopped

1 c. vegetable stock

1/2 pound whole wheat rigatoni

2

tbs

butter

1

c.

Parmesan cheese, grated

sea salt and cracked pepper to taste
1. Prepare pasta.
2. Meanwhile heat oil in a large skillet over medium heat. Add all vegetables (except the beet greens) and cook until they begin to soften (about 5 minutes)
3. Add garlic, rosemary, and 1/2 c broth. Bring to a boil. Cover and let cook until soft (about 15 minutes) stirring occasionally.
4. Drain pasta. Stir butter and greens into vegetables.
5. Add vegetables to past enough broth (of the remaining 1/2 cup)  to moisten. Stir in cheese. Top with sea salt and plenty of cracked pepper.
6. Enjoy!
Adapted from Bon Appetite