I love tamales. But while they're usually awesome, I have had some that are just so-so. That, combined with the  horror stories that I had always heard about making them made me think they were best left for dinners out, but I've always toyed with the idea of making them. I even tried a deconstructed tamale, which I posted about here before. Anyway, this past weekend I decided to give in and attempt them. You know what? They really weren't difficult to make! They take time, so it's definitely not something you can do after work on a weeknight, but a lazy Sunday afternoon? No problem! With the exception of actually rolling them, there's actually very little "active" cooking time. Also, the recipe make tons and they reheat well, so one afternoon and you'll be good on tamales for a while! (freeze whatever you don't eat the first night. To reheat, wrap in a wet paper towel and microwave for 1:30-2:00.)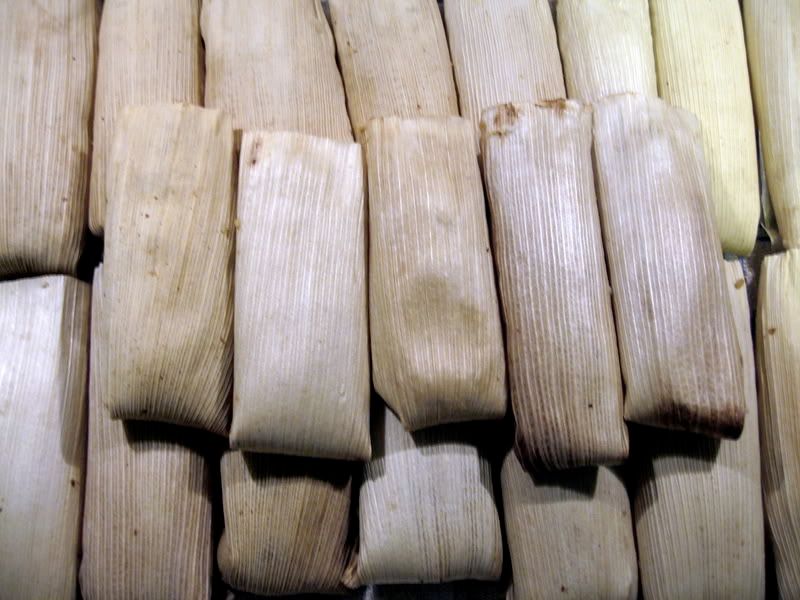 On a scale of 1-10, I would give these an 8 in ease of preparation, a 10 in terms of taste, a 10 in terms of calorie-satisfaction ratio, and an 8 in terms of reheat-ability.
Tip: I made the dough while the pork was roasting. Also, I served with a prepared mole sauce. Yum!
Chili-Cherry Pork Tamales
(recipe courtesy of Cooking Light, surprise surprise….)
Dough
2  cups chicken broth
2  chiles
1 1/2  cups  fresh corn kernels (about 3 ears)
3 3/4  cups  masa (I found this near the goya stuff at the store)
1 1/2  teaspoons  salt
1 1/2  teaspoons  baking powder
1/4  cup  chilled crisco
1. Combine broth, chilis, and corn in food processor. Process until smooth.
2. Combine dry ingredients. Cut in crisco until it looks crumbly/mealy. Add broth mixture and combine (hand work well!) until ti forms a soft dough. Cover and refridgerate until ready.
Filling
24  dried corn husks
1/2  cup chicken broth
1/3  cup  dried tart cherries
1  chile, stemmed
1  cup  chopped onion
2  tablespoons  brown sugar
3  tablespoons  fresh lime juice
1  teaspoon  ground cumin
1/2  teaspoon  salt
5  garlic cloves
1  (1-pound) pork tenderloin
1. Combine broth, chili, and cheeries in a microwave safe dish. Heat for about 2 minute, until the cherries plump up. Transfer to food processor. Add next 6 ingredients (through gralic) and process until smooth. Reserve 1/2 cup. Slather the rest all over the pork. Let pork marinate for at least 60 minutes.
2. Place pork on broiler pan and cook at 450 for about 30 minutes. Remove from oven and let sit 20 minutes. Shred. Toss with reserved marinade.
3. Fill a bowl with warm water and start soaking the corn husks (weigh them down with a can if you need to).
4. Working one husk at a time, shape 3 tablespoons dough in center of husk. press with your knuckles to spread it out to cover the top half or so of the husk. Spoon a Tablespoon of pork down one side of husk. Roll the husk so that the dough encapsulates the pork (roll the husk the long way) then fold the empty park of the husk under (fold the short way). Place on broiler pan. (I had to stack my tamales in two layers to get the to fit on the pan- it was fine).
5. Fill bottom of pan with 2 cups of hot water (this will help them steam). Cover with damp kitchen towel (use an old one as it will discolor). Bake at 450 for about an hour.
6. Enjoy!