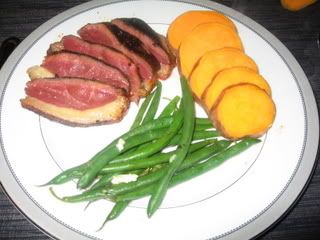 A few months ago, I bought a duck breast on a whim. I tend to do crazy things like that. I had no idea what to do with it, but this recipe from November's Cooking Lights caught my eye, so I gave it a try. It was delicious! Also not too bad for a weeknight- you just have to plan for it the night before.
I want to try the glaze on stir fried steak sometime. I think it would be great.
Supposedly magret duck has a thinner layer of fat that other types, but it still seemed really fatty to me. It also makes no sense, since "magret" apparently just means that it was raised for foi gras (and wouldn't that make it fatter?)
2 T. ancho chili powder
1.5 T. apple cider vinegar
1.5 T. honey
1 boneless duck breast, skinned
Combine the first three ingredients. Spread over duck and marinate overnight.
Cook over medium-high heat, about 7 minutes for rare. The glaze might start to darken, so keep an eye on it. It will look like its burning before it actually does.
Serves 2. Around 200 calories, 3.2 grams fat.