For this I really like to use Trader Joe's salmon. It looks far less scary coming out of the can than other brands do. Leftovers are great served cold on top of a salad.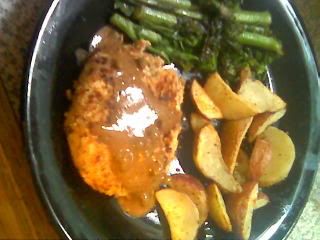 salmon cakes:
14 oz. can of salmon, drained
1/4 cup RF mayonaise
3 T breadcrumbs
1 egg white, slightly beaten
1/4 c. breadcrumbs
Mash the slmon with a fork, add mayo, 3 T breadcrumbs, and egg. With wet hands, shape into 4 pattys.
Spread remaining breadcrumbs on wax paper. Coat the patties with crumbs. Broil until crip and golden- about 4 minutes on each side.
Sauce:
2 T balsamic vinigar
2 t. dijon mustard
1 t. chopped tarragon
1 t. chopped capers
1 t. olive oil
cracked black pepper.
Combine all ingredients. Refridgerate until ready to serve.
Serves 4. 4 Points each.