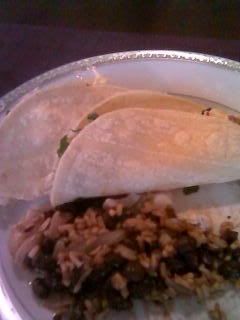 Another adaptation from Cooking Light. This was really good and fresh tasting. The original recipe says it serves 4, but I cut it down some and it still served a lot more than that. I'd say as I have it here, it will make about 12 tacos. I served it with rice and beans and limeade for a great summery dinner.
1 lb cod fillets
2 limes, halved
1/2 tsp salt
1/4 tsp black pepper
1 c plain fat-free yogurt (I used Fage, and the texture was great)
1 tsp sugar
1/4 tsp salt
1/8 tsp chili powder
red pepper flakes to taste
corn tortillas
1 c. shredded cabbage/ cole slaw mix
1/2 c. guacamole
1/4 cup chopped fresh cilantro
Place fish in a bowl, and cover with the juice from 1.5 limes, 1/2 teaspoon salt, and pepper. Cover and refrigerate 20 minutes.
Combine juice from the other half of a lime, yogurt, sugar, 1/4 teaspoon salt, chili powder, and red pepper flakes. Cover and chill.
Heat a large skillet over medium-high heat. Heat each tortilla for 10-15 seconds on each side. Set aside and cover with foil to keep warm.
Coat pan with cooking spray. Add fish and marinade to pan. Cover and cook 8 minutes or until fish flakes easily when tested with a fork. Flake all of the fish.
Top each tortilla with about fish, shredded cabbage, yogurt mixture, guacamole, and cilantro.