This is one that I based on one of the pizzas at California Pizza Kitchen but lightened up a lot. I used some gourmet garden basil this time- this stuff is great! It keeps for about 3 months in the refrigerator and tastes much better than dried. Fresh is still ideal, but when you can't get your hands on it, this is a good substitute. I've also tried their ginger which is good as well.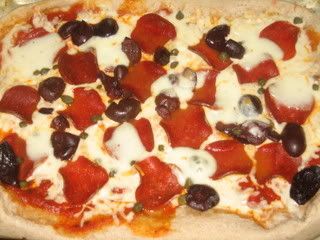 whole wheat pizza dough (either prepared or make your own)
1 cup sauce- I like Classico spicy red pepper
basil
FF mozzarella- about 1 cup
turkey pepperoni- a little less than half a package
small handful of kalmata olives- pitted and roughtly chopped
1 T capers
1 oz fresh mozzarella, cut into 4 pieces
Spread the toppings evenly over the crust in the order listed. Bake according to crust directions- usally about 20 minutes at 350.