sorry this took so long for me to post- I kept forgetting! This dinner is delicious. I made extra chicken and used it on salads for lunch- very good. Also, its only ah alf serving of chicken in the picture- I wasn't very hungry that night. So if you make it, you'll get more. Baby carrots save some time in prep since you don't have to peel and cut them. Plus, they look cute. The roll is an Alexia French roll. Love them.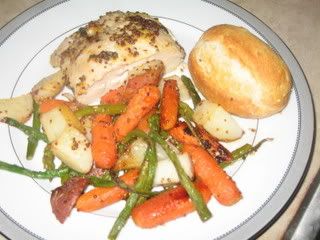 2 T good grainy mustard
1 t. chopped herbs de provence
1 garlic clove, minced
1 t. olive oil
1 t. honey
dash salt
2 boneless, skinless chicken breasts
4 small white potatoes, halved or quartered
2 handfulls of baby carrots
1/2 pound asparagus (fresh is best, but I used frozen this time and it was still good)
olive oil
lemon wedges
preheat oven to 400.
Combine first 6 ingredients in a bowl. Mix to combine. Add chicken and toss to coat. Place chicken in a baking dish. Toss potatoes and carrots in remainng mustard mixture and then arrange them around the chicken in the pan. Roast for 25 minutes.
Cut the asparagus into thirds and drizzle with olive oil (about 1 t. or less). Stir them into the potatoes and carrots in the roasting pan. Bake another 15 minutes, or until chicken is done and vegetable are cooked through.
Approx. 300 calories, 5g. fat, 5g. fiber per serving. Makes 2 large servings.