I felt like something different, so I threw this together. It took a while and was pretty fancy, so its best saved for a weekend meal.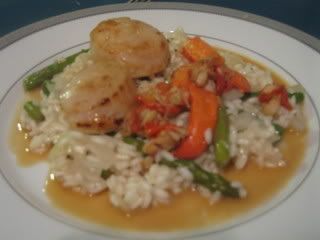 1 package risotto rice
olive oil
1 vidalia onion, chopped
2 shallots, chopped
2 c. white wine
2 c. chicken broth
water
1/2 lb. asparagus, cut into small pieces
1.5 lb. lobster meat
1/2 lb. jumbo scallops
2 tsp. butter
parmasean cheese, grated
heat a little olive oil in a large skillet. Sautee the onion and shallots until brown. Add the rice and stir until coated with oil. Cook about 3 minutes. Add one cup of wine, stirring constantly. When absorbed, add more wine, continuing to stir. Add asparagus. Slowly add additional liquid- adding more broth or water if necessary- until the rice is done. It should be slightly chewy. Set aside.
Heat a small skillet or wok to a high temperature. Add a little oil. Pat scallops dry and add them. Cook about 2 minutes on each side, until browned. Remove scallops. Add butter and a little wine to the pan. Add lobster and cook until heated through.
Add cheese to the rice and season with salt and pepper. Serve seafoood on top of rice, spooing some of the sauce over it.
makes about 6 servings.