I don't feel like I did much cooking on this one, but it was really delicious so I'll post it anyway. I picked up a burgundy marinaded boneless leg of lamb at Trader Joes and cooked it according to package directions (for medium rare, just over an hour for a 2.5 pound cut. Not too long, but long enough that you'll want to save this for a weekend.). While that was in the oven, I wrapped some yams in foil and threw them in. About a half hour before the lamb was done, I drizzled brusells sprouts in olive oil (just a little bit) and cracked some pepper over them, and threw them in.
We mixed some fresh mint with mango chutney to serve with the lamb. The flavors played off each other beautifully.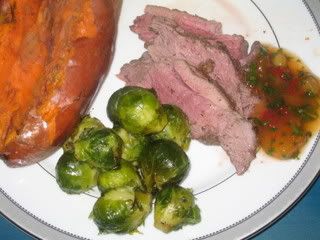 What to serve with it? Mojitos, of course! Can't let all that fresh mint go to waste!