I was looking for something to do with the leftover lamb, and this
ended up being a great choice! It was pretty quick and easy for
Indian, but it had a really nice flavor. Not as spicy as restaurnat
vindaloo, but you could probably add a few chopped chilis if you want
it spicier. If you make this with uncooked meat, add it right after
the onions. I served this with some brown rice. It would also be
really good with some flatbread if you wanted to buy or make that. I
didnt' have time.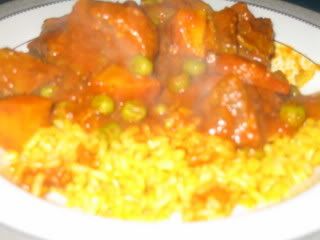 1 can tomato paste
2 1/2 tablespoons distilled white vinegar
1 large garlic clove, chopped
2 t minced ginger (I used gourmet garden again)
2 t turmeric
1 t paprika
1 t cumin
1 t coriander
1/2 t (or more) cayenne pepper
3/4 t ground cumin
3/4 t ground coriander
1/2 t ground pepper
1/2 t ground cardamom
1/4 t ground cloves
1/4 t ground cinnamon
2 T olive oil
1 onion, chopped
1 lb. lamb (cooked), cut into big cubes
1 c peas
2 potatoes, cubed
1 1/2 c water
1/4 c FF plain yogurt
Mix vinegar, tomato paste and all of the spiced in a small bown to
form a thick paste.
Heat the oil in a large pan. Add onion and cook until golden. Add the
spcie mixture and cook until fragrant. Add peas,potatoes, and water.
Cover and simmer for about 15 minutes until potatoes begin to soften.
Add the lamb and more water if necessary, replace cover and let simmer
until lamb is heated through and potatoes are cooked, continuing to
add water as necessary to keep the sauce moist. Stir in yogurt. Cook
about 2 mnutes longer.
Makes 4 servings, approx. 250 calories each.