these take a little more time to make than most of my recipes. but
they're still really easy. And most of the time is waiting for them to
come out of the oven, so it isn't too bad. You can use whatever
tortillas you want… I usually use fajita sized 98% fat free flour
tortillas (this will make about 6 chimichangas), but last night I used
burrito sized whole wheat "carb control" tortillas (the 31 grams of
fiber in these make the FILLING, and the recipe will make about 4.)
The whole wheat tortillas make them come out a little drier, but
overall we liked the flavor better. They'd probably be good topped
with a little enchilada sauce to counteract the dryness.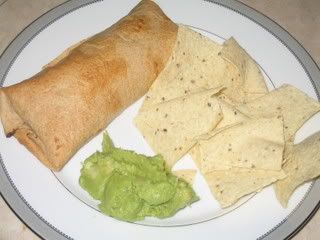 1/2 lb. chicken breast, diced
1 onion, chopped
1 8oz. can tomato sauce
1 T chili powder
1 t. oregano
1 t. cumin
chili peppers (to taste), chopped
1/4 c. fat free cheddar shreds
tortillas (your choice. 4-6 depending on size)
preheat oven to 400.
Wrap tortillas in foil and put in oven to warm.
Combine chicken and onion in frying pan and cook until browned. Add spices and tomato until slightly thickened- about 5 minutes. Remove from heat and stir in the cheese and peppers.
Divide filling between tortillas and wrap them burrito-style. Place seam side down in a pan sprayed with cooking spray. Spray the tops
with cooking spray. Bake 20 minutes, without turning. Serve with your choice of sides.