These are pretty much a staple at out house. They're really fast and easy, and you can pretty much just throw whatever you have into the pan.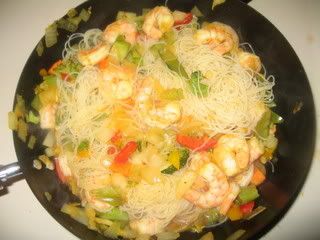 6 ounces rice noodles
1/2 c. chicken broth
2 T soy sauce
1 T rice vinegar
2 t. chili sauce
1 t. sugar
1/2 lb shrimp, precooked, tails removed (you can also use chicken, or a combination of both)
chili oil
1 onion
3 cloves garlic
2 T curry powder (more if you like it)
cayenne pepper
1 lb fresh or frozen vegetables (I like stir fry vegetables with pepper strips.)
Fill a large bowl with hot water. Submerge raw noodles and set aside.
In a small dish, combine broth, soy sauce, chili sauce, vinegar, and sugar.
Heat chili oil in wok or large frying pan. Add onion, garlic and curry powder. When onion is soft, add vegetables. Cook until heated through. Add shrimp and cayenne to taste. Add noodles and liquid ingredients, tossing together to mix well. Cook until warm, about 3 minutes.
If making this with chicken, add chicken and cayenne with the onion.
Makes 4 servings, approx. 200 calories each.