This is one of our favorite dinners lately. Its warm and hearty, filling, and leaves plenty of left overs for lunch. (travel tip- stick a single sized portion in the freezer overnight- no worries about spilling on the way to work!)
I adapted this recipe from the Weight Watchers Everyone Loves Chicken cookbook.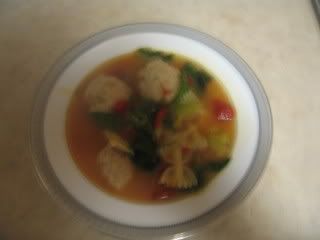 2t. olive oil
1 onion, chopped
2 cloves garlic
6 c. FF, low sodium chicken broth
1 large can tomatoes (Italian seasoned work great)
1 cup small pasta (I like bowties)
1 pound ground chicken
1/4 c. egg substitute
1/3 c. bread crumbs
1 bunch chicory, chopped
1/4 basil, chopped
6T fresh parmasan cheese
In large pot, heat the oil and sautee the onion and garlic. Take half the onion out and put it into a bowl. Add broth, tomatoes (undrained), and pasta to pot. Bring to a boil.
Meanwhile, add chicken, breadcrumbs, egg, cheese, and salt and pepper (to taste) to the reserved onion. Mix well and form into meatballs (I usually make about 12 big ones because I'm impatient). Add the meatballs to pot and simmer until cooked through. Add chicory and basil, and heat until wilted and dark green.
Makes 6 (filling!) servings. Approx: Calories: 329, Fat: 9g, Fiber: 4
great served with a slice of garlic toast and a glass of dry wine.